Bag Size Guide
From large to small, we will create the perfect luxury bags to suit your need. Most of our bags are available in an unlimited range of sizes.
We have provided large bags for homeware stores selling large household goods, toy stores and fashion retailers. At the opposite end of the scale we have made small bags which have been used for jewellers, goody bags at parties and special product lines.
Using our online quotation tool, you will see a number of the 'standard sizes' listed. However all of our bags are bespoke so they can be made to your exact specification, in any size required.
Each carrier bags is measured using width, length and bottom gusset and we have provided an example below to demonstrate this in our size guides.
Paper Bag Size Guide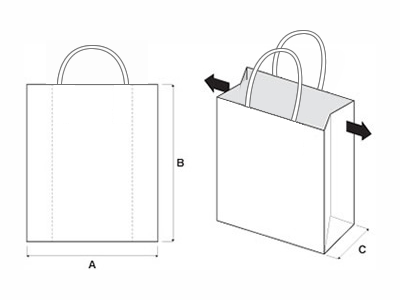 Bag width is 260mm
Bag length is 360mm
Bag has a bottom gusset of 130mm

A = 260mm / B = 360mm / C = 130mm

Example Size is 260 x 360 x 130