Any Size or Specification
Are you looking for a printed luxury bag that's out of the ordinary, something a little bit different?
No problem at all. Our expert team will guide you through the process and ensure that we create the perfect gift bag for your products, store, event or services.
Looking for inspiration?
Our most popular sizes are:
150 x 200 x 80 - often used for jewellery or beauty products
280 x 220 x 100 - perfect for events and exhibitions
400 x 300 x 120 mm - ideal for clothing
420 x 360 x 150 mm - ideal for larger items
100 x 400 x 100 - ideal for bottles
How to measure your bag?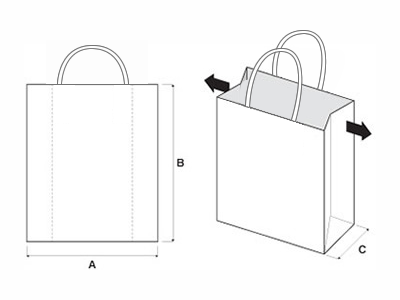 Bag WIDTH is 280mm
Bag HEIGHT is 220mm
Bag DEPTH of 100mm

A = 280mm / B = 220mm / C = 100mm

Example Size is 280 x 220 x 100